SPW Reception Learning Community and Piltangka Plaza Redevelopments
Four cell-like learning spaces within the Ground Floor of the Millington Building circa 1960 were gutted and reconfigured to provide two pairs of linked spaces with direct access from the Plaza.
The light filled interiors include a neutral and natural materials palette with extensive provision of acoustic wall fabric and purpose designed storage concealed by sliding magnetic whiteboard panels. The spaces are cosy and include stacked cubbies and a nook with a stage and comfortable soft furnishings.
Low scaled timber framed verandahs and pergolas were removed between the Thorpe and Millington Buildings. A new voluminous steel framed butterfly roof form lined with translucent multi-cell polycarbonate sheeting provides all weather access to a range of outdoor learning settings within the Plaza.
The centre-piece circular podium and curved steps are configured around two aged glory vines which radiate out to soften the Plaza together with lush landscaped planters and seating. The Indigenous artwork was designed by Ngarrpadla Daphney Paringangki Rickett (Aunty Daphney River Woman Rickett) who is a Kaurna, Ngarrindgeri Latji Latji woman. 'Piltangka' means 'together' in traditional Kaurna language. The artisan collaboration of Gregg Mitchell and Iguana Creative has personalised and greatly enhanced this project.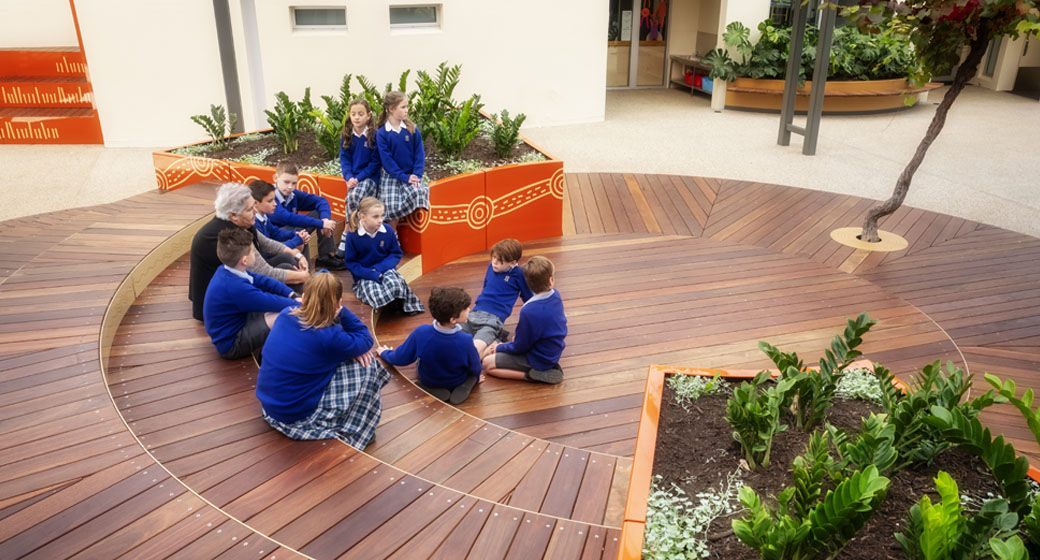 affordances
St John the Apostle Parish School
The first stage redevelopment at St John the Apostle Parish School has replaced a tired and dysfunctional two storey modular building. The objective was to maximise the potential of the site by capturing the sea views to Christies Beach.
The project has provided spacious and connected learning areas and commons, new student amenities, an art and music space and a new lift. Generous covered balconies, learning deck, planters and accessible ramps to the lower oval were part of the works. Building and fenestration forms and the seaside themed colour palette connects with context and significantly enhances the street presentation.
Purposeful design of built-in joinery has ensured there is a place for everything including cosy nooks and the coveted window seat in the Learning Common. Loose furniture selections have provided a range of activity settings and affordances that are readily reconfigured. The 'under the sea' graphic elements by Gregg Mitchell and Iguana Creative playfully enlivens the central stairway.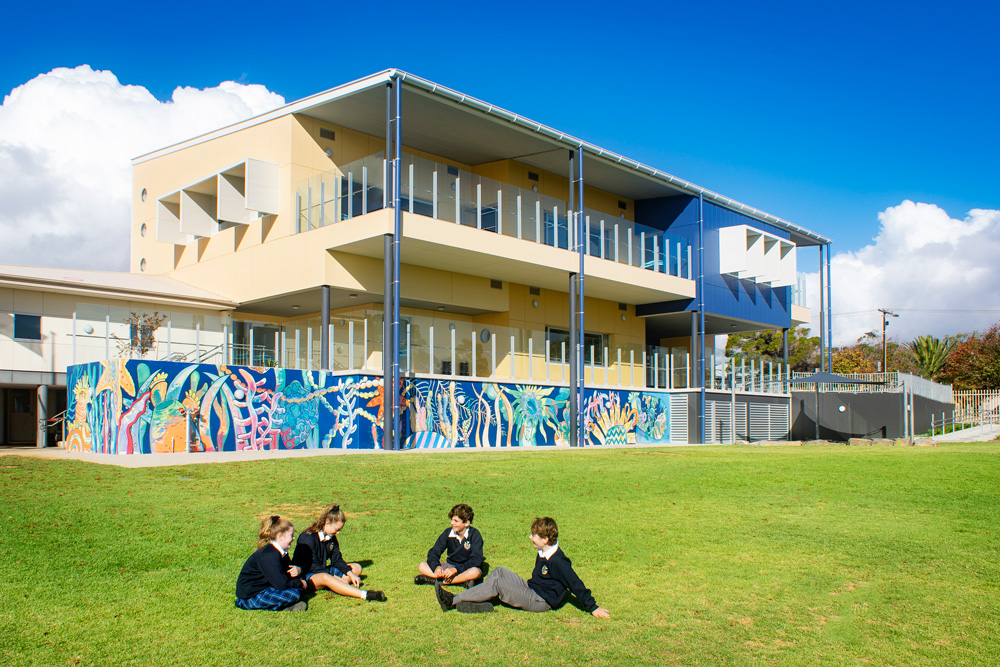 by the sea
Calvary Lutheran Primary School – Stage 02
The Middle Primary Learning Community Years 3 & 4 was the second phase of the multi-staged redevelopment at Calvary Lutheran Primary School.
The holistic rework of two existing general learning areas has created opportunities to connect directly to a new Learning Common and Nook and to outdoor learning decks and nature play.
Works by artisans include the Reading Tree and scattered leaves by Gregg Mitchell and Iguana Creative, circular feature glass window by Jan Aspinall and Adelaide Leadlight and an artist-in-residence program with James Dodd (Jimmy) engaging and collaborating with all students that resulted in the 'Reach for Success' mural.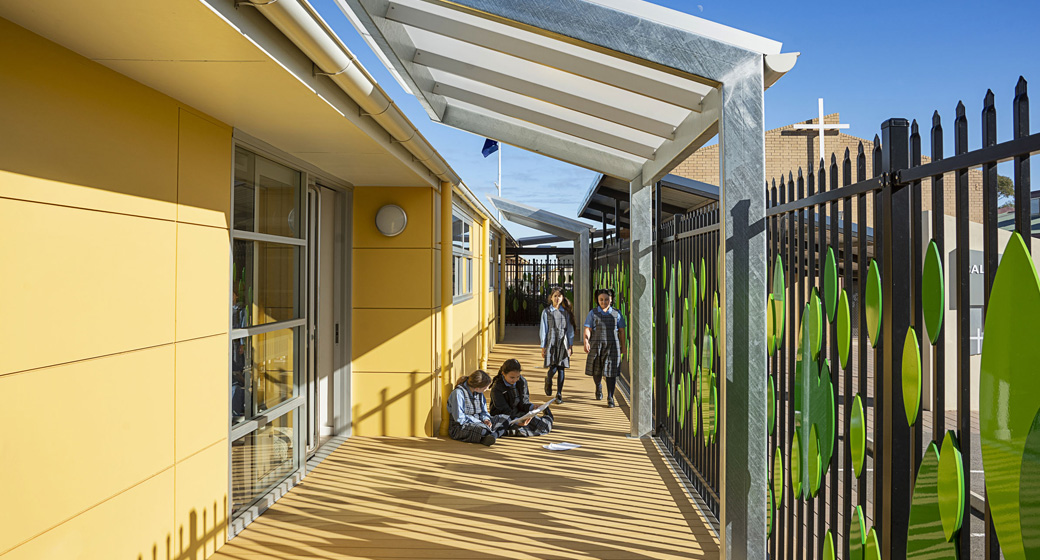 Engagement
TATACHILLA LUTHERAN COLLEGE
The holistic redevelopment of facilities for the Reception Learning Community at Tatachilla Lutheran College comprised the gut, rework and expansion of an existing building.
The design intent was for child-centred, flexible spaces that connected with the outdoors with generous verandahs. The south facing skylights were retained and extended. They provide ample natural light and ventilation.
The remodelled building provides a range of comfortable, connected and purposeful activity settings. Existing loose furniture was reused. The materials, colours and finishes reflect the regional vernacular architecture of the renowned McLaren Vale wine region.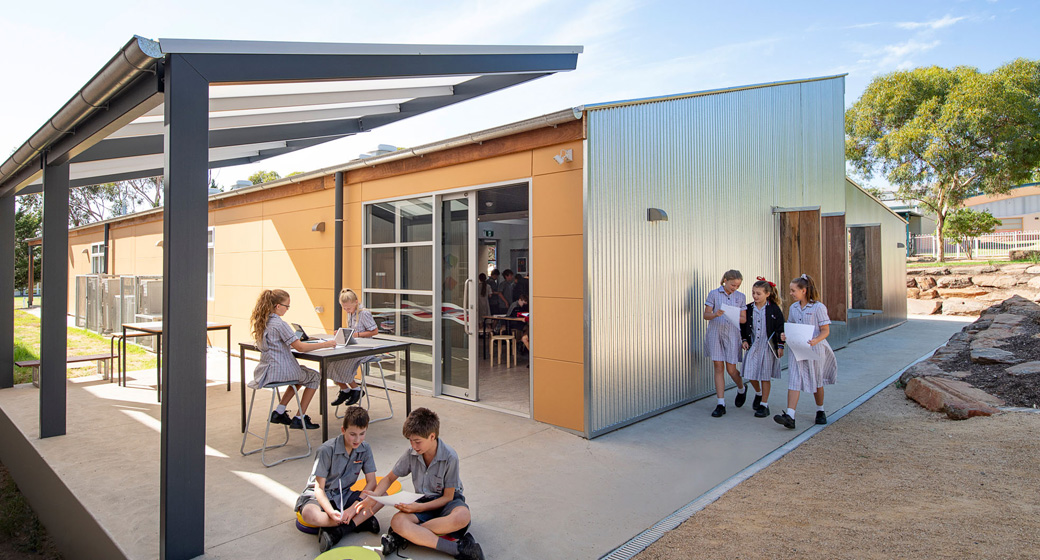 Child
Centred
SEYMOUR COLLEGE JUNIOR SCHOOL RESOURCE CENTRE
This new two storey building contributes to place making by responding to context and setting. It provides a hub for the Seymour College Junior School in Glen Osmond. It is affectionately referred to as the 'tree house'.
Internal spaces are light and airy, the layout functional and practical. Indoor and outdoor learning spaces and reading decks are seamlessly connected by glazed sliding doors.
This project was by Brown Falconer.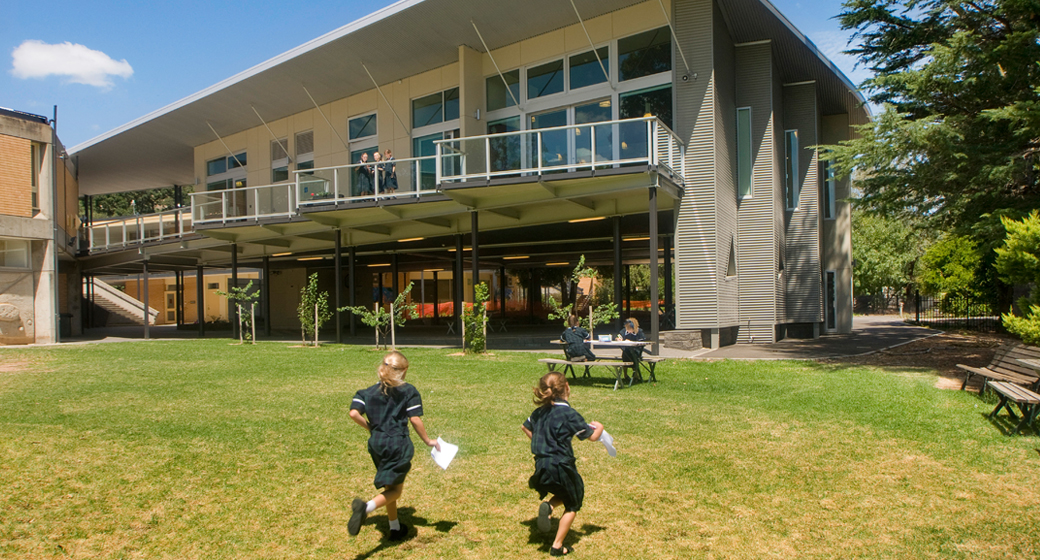 TREE HOUSE
SPW THORPE, COURTYARD AND DANCE STUDIO
The learning spaces for Year 2 within the Thorpe Building have been holistically reworked to provide physical and visual connection. This encourages collaboration for the teacher and student cohorts.
Outdoor spaces have been enlivened with new seating by Greg Healey Design and commissioned graffiti art by Gary Seaman.
The First Floor of Nutter Thomas Building has been repurposed as a Dance Studio for SPW and the Prestige Dance Academy.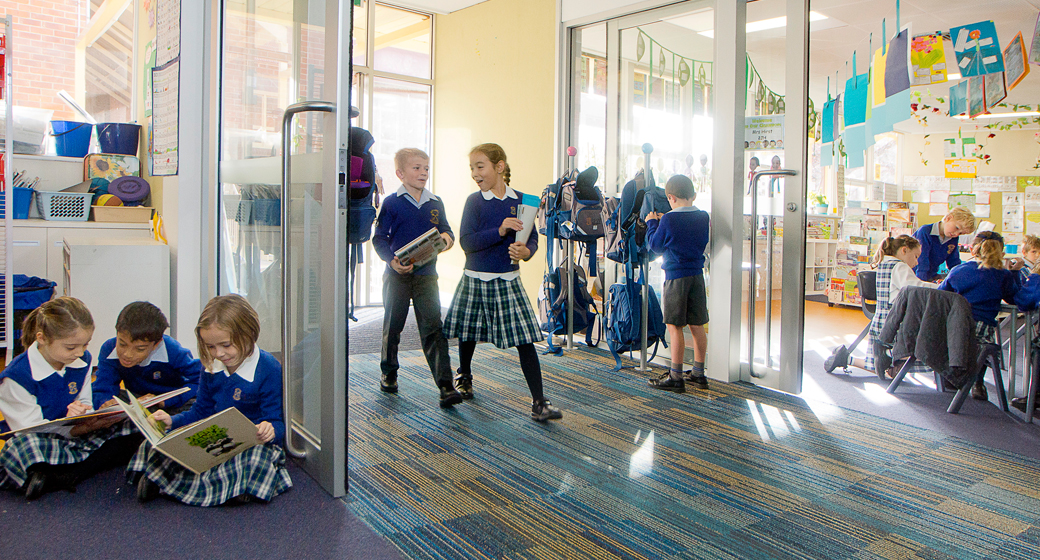 CONNECT
All Saints Catholic Primary School
The new two-storey building at All Saints Catholic Primary School in Seaford named 'MacKillop' provides three interconnected Learning Areas on each level together with Group Rooms and Student Amenities.
Generous covered and acoustically attenuated break-out spaces are orientated north and south. These spaces are seamlessly integrated with the new Nature Play settings and a new site entry. A new covered link provides connection to the Hall and weather protection in the rearranged car park.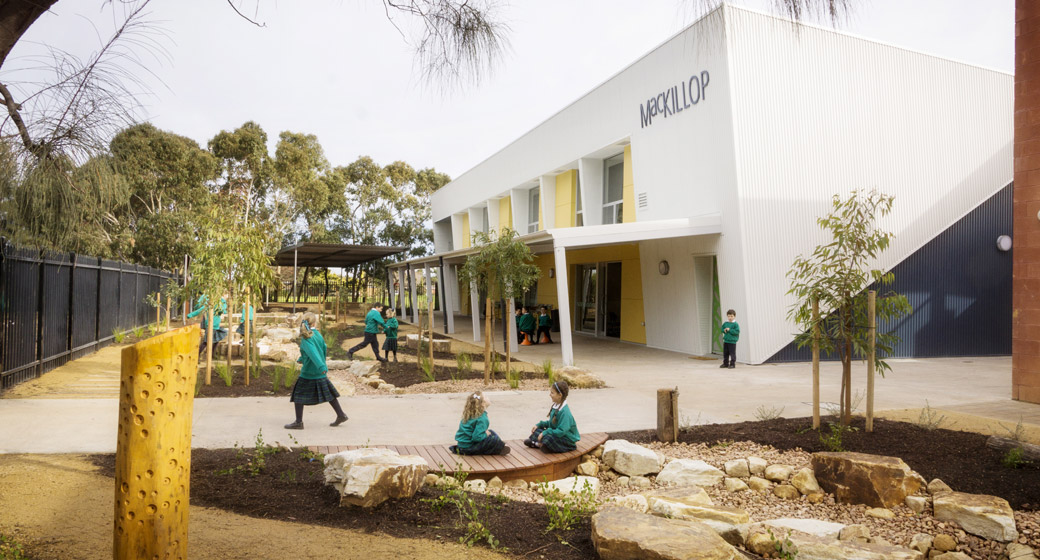 JOYFUL
ST Patrick's Technical College Northern Adelaide
This vocational college comprises a mix of technologically rich learning areas, laboratories, workshops, IT design hubs, seminar and breakout rooms and a series of vocation specific environments for commercial cookery, metals engineering, building and construction, automotive and electro technology. It also includes exhibition, staff and administration spaces.
This project located in Elizabeth West received the Architecture Award for Public Architecture, a Commendation for Collaborative Design and the Colorbond Award for excellence in steel architecture from the Australian Institute of Architects SA Chapter in 2009.
This project was by Brown Falconer.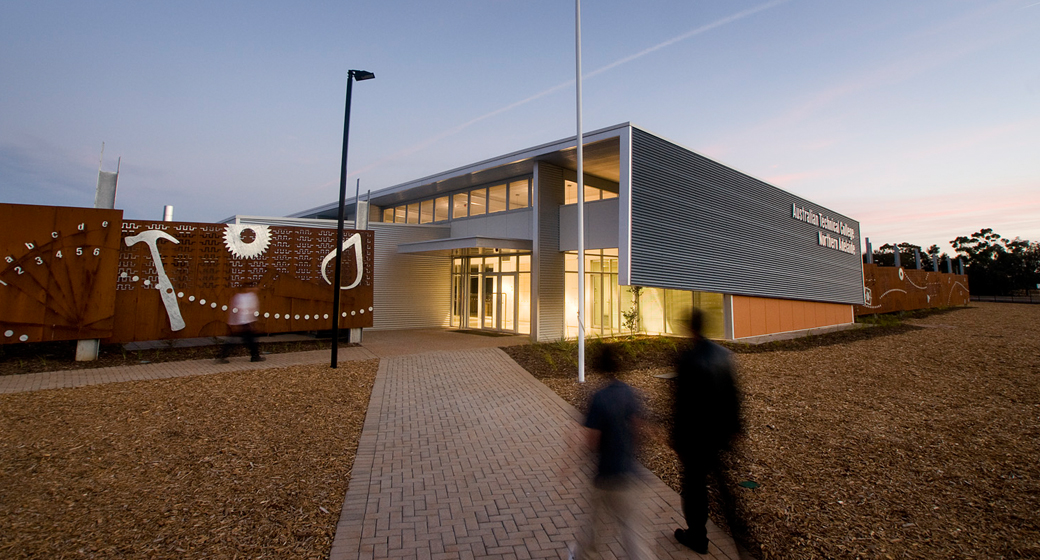 INVENT
MAKE
CREATE
PAIDEIA
'Paideia' at Cornerstone College provides connected and integrated learning environments that are flexible and adaptable at a moment's notice.
The energy and excitement of the Middle Years students demonstrates that a sense of community, belonging and well being has been established and will flourish.
The spatial configurations encourage and support teachers visibly learning from each other, student collaborative learning and reflective activities. '360 Learning' has been achieved.
Paideia received two Commendations from the Australian Institute of Architects SA Chapter 2015 Architecture Awards in the Educational Architecture category and from Bluescope Steel for the Colorbond Award for Steel Architecture.
This commission was delivered by Flightpath Architects.
An article "Designing Progressive Schools" by Bension Siebert appeared in the INDAILY Adelaide Independent news online publication on the 11 June 2014.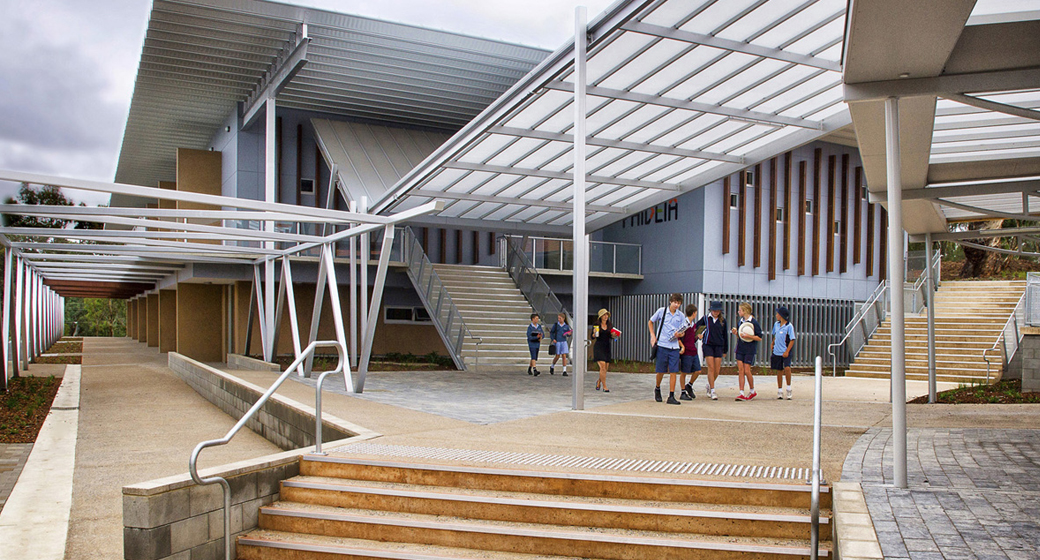 360 LEARNING
Cornerstone College Science Refurbishments
The progressive rework of six existing Science Laboratories provides a flexible space for instruction, group work, cooperative learning and practical activities suitable for the Science Learning Framework across Middle and Senior Schools at Cornerstone College.
At the centre of these staged refurbishments was the need for engagement and the critical learning skills of collaboration, communication, critical thinking and creativity. The reworked and enlarged preparatory and storage area provides safe and efficient work flow and movement.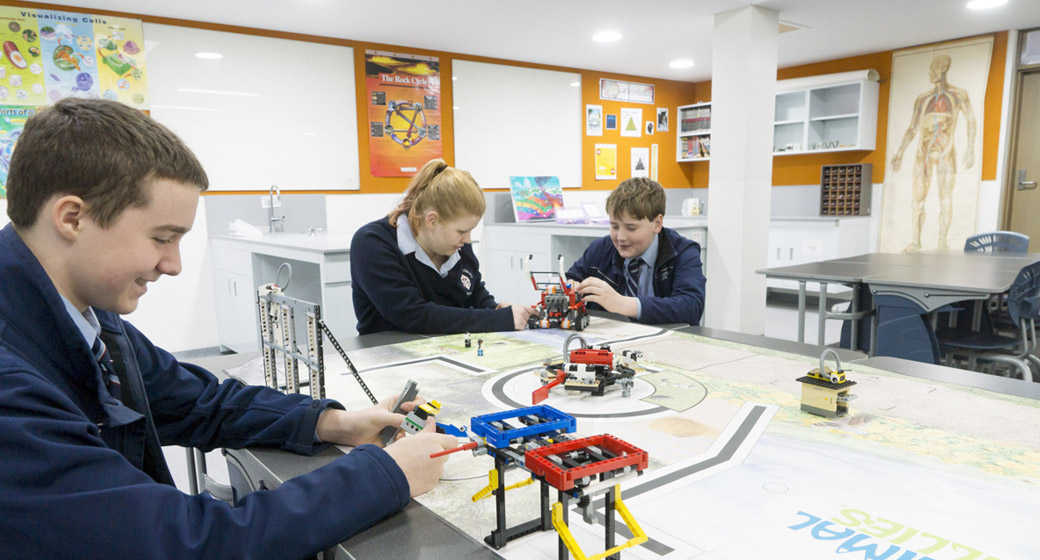 ENGAGED
ST Peter's Woodlands Grammar School
'The Pines' demonstrates that adaptive reuse of existing building stock can be architecturally innovative, creative and fun. The redesigned linear Hayward Building has been holistically reworked to accommodate Early Learning facilities. An abundance of natural light, cross ventilation, bright and welcoming colours and interconnected indoor and outdoor environments are a delight.
Progressive rework of other existing buildings on the Glenelg campus has included the two storey RJ Taylor Library and Music Suite, Gillam Building refurbishment, Law Smith administration and staff facilities upgrade and the rework of student amenities. Peter Moeck was appointed SPW Project Manager in 2012 on the strength of trust and rapport established during a seven year working relationship.
This project was by Brown Falconer.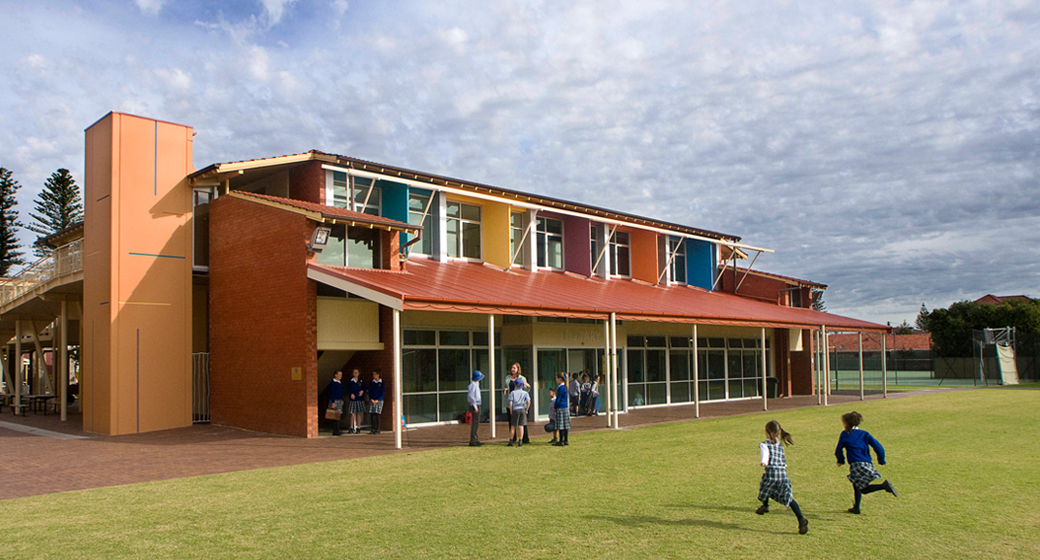 ADAPT
REUSE

Cornerstone College
Cornerstone College in Mount Barker was established in 1989 based on a Master Plan by Brown Falconer. The College has been actively engaged in staged development since inception. The campus will now accommodate 900 Year 7-12 students commencing in 2014. The 'inbarendi' indoor recreation and multipurpose facilities received the Australian Institute of Architects SA Chapter Colorbond Award for excellence in steel architecture in 2000. The 'Anakalypsi' Resource Centre received a Commendation for Art and Architecture in 2002.
The ongoing building works and site infrastructure have integrated the work of talented and creative artisans since 1994 when Peter Moeck became the College Architect. This long term relationship for twenty years has been founded on trust and rapport. This has provided a design freedom to shape and build a learning village where each building has a unique identity and name reflective of context and purpose.
This project was by Brown Falconer.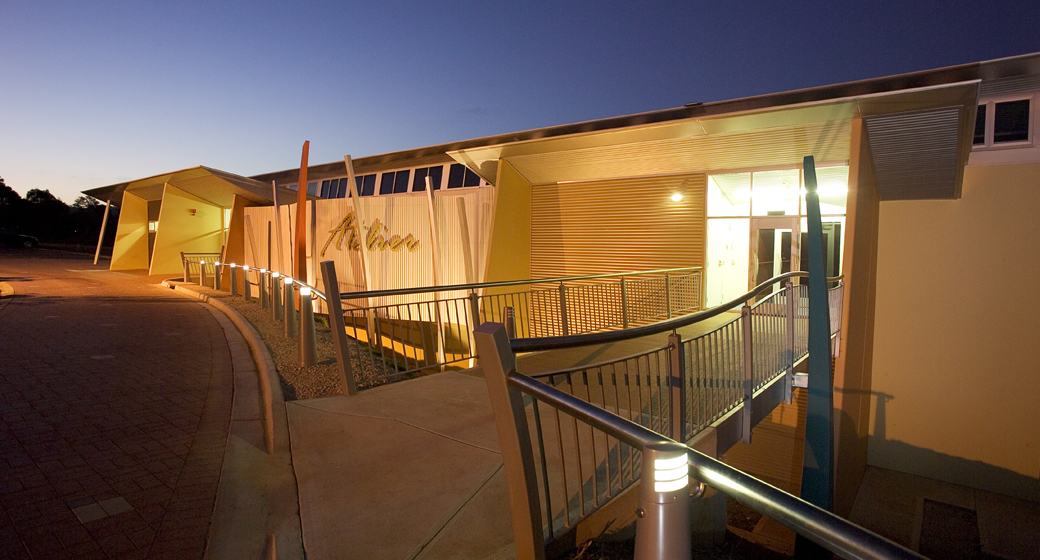 TRUST
RAPPORT
SPW Early Learning Centre Expansion
The 75-place facility constructed in 2006 was expanded and reworked in 2016 to cater for 120 places providing a long day care service with a purposeful and engaging program emphasising inquiry, sensory learning experiences and interconnectedness.
SPW have experienced increased enrolments with long wait lists for the 2, 3 and 4-Year Old Programs with positive transitions from ELC to Primary School. Strong emotional and social improvements for student preparedness for Foundation are also evident.
There are now a range of purposeful and delightful indoor and outdoor spaces including the Village Square and Nature Play where students and staff come together, creating a sense of community and belonging. The nurturing, calm and homely environments support student learning and physical well-being.
This project was Winner in the Learning Environments Australasia SA Chapter Awards in the Category for Renovations and Modernisation under $2M in 2017. Refer to the Jury Citation.
ARTICLE PDF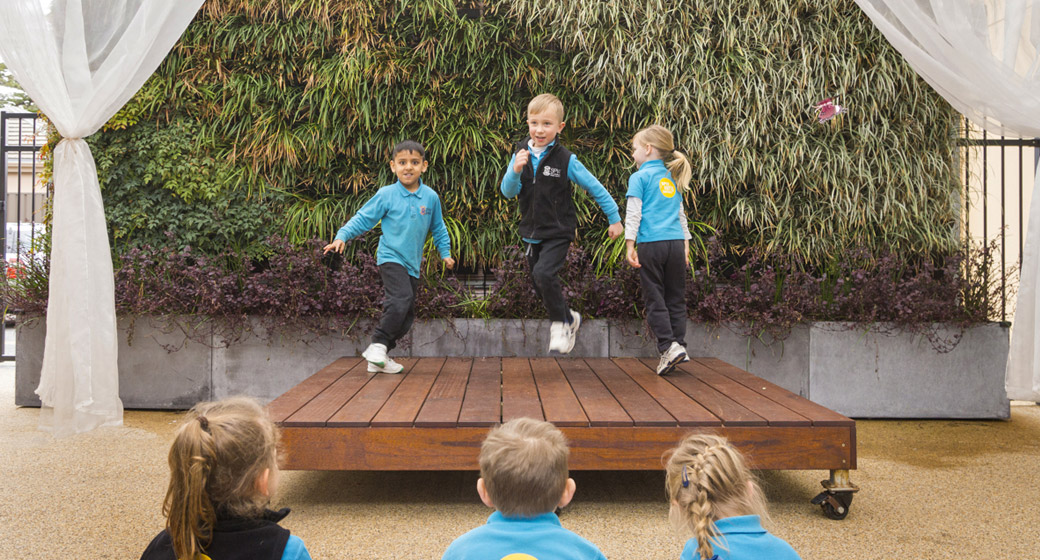 NURTURED
ST Mary's College
The new Susan Sullivan Library is on the upper level of a two storey addition positioned between the art, technology and science facilities. The lower level provides three linked learning areas. The architectural approach was to design from the inside out.
First and foremost was the need to understand purpose, operational needs, functional relationships and objectives. The result has breathed new life into the compact Adelaide city campus that includes significant heritage listed buildings. The facilities are filled with daylight drawing the outside in. Resources are easy to find and the spaces easy to use.
This project was by Brown Falconer.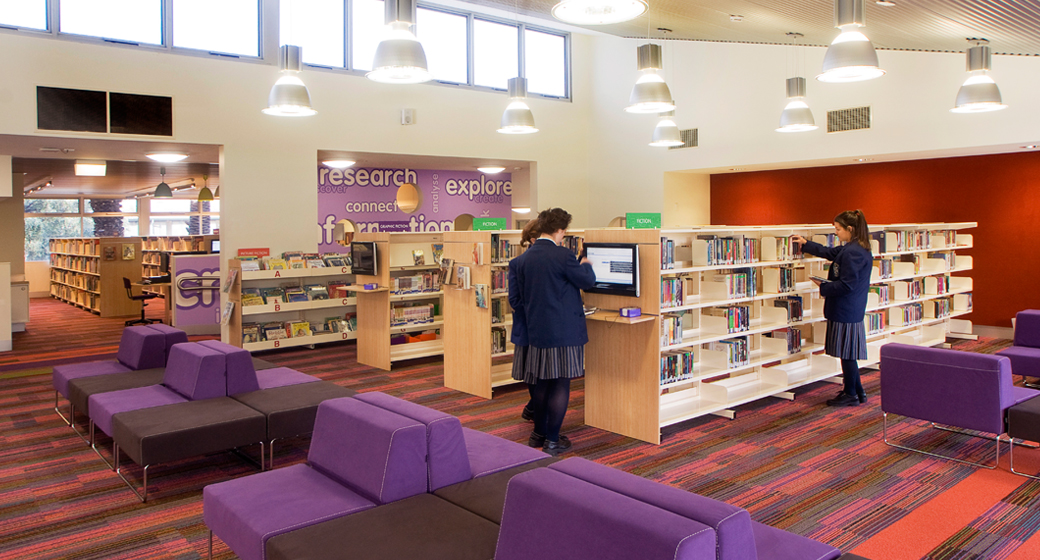 LIGHT
AIRY

Calvary Lutheran Primary School – Stage 01
The Junior Primary Learning Community Reception to Year 2 was the first phase of a multi-staged redevelopment that will progressively transform the indoor and outdoor learning environments at Calvary Lutheran Primary School, Morphett Vale.
The focus is on improving student outcomes by creating a culture of collaboration, where learners strive to reach for success in all aspects of their journey as learners.
There is seamless physical and visual connectivity between internal and external learning spaces. The environment is reflective of the needs of the students. It is open, inviting, calm, inclusive, practical, safe and soothing.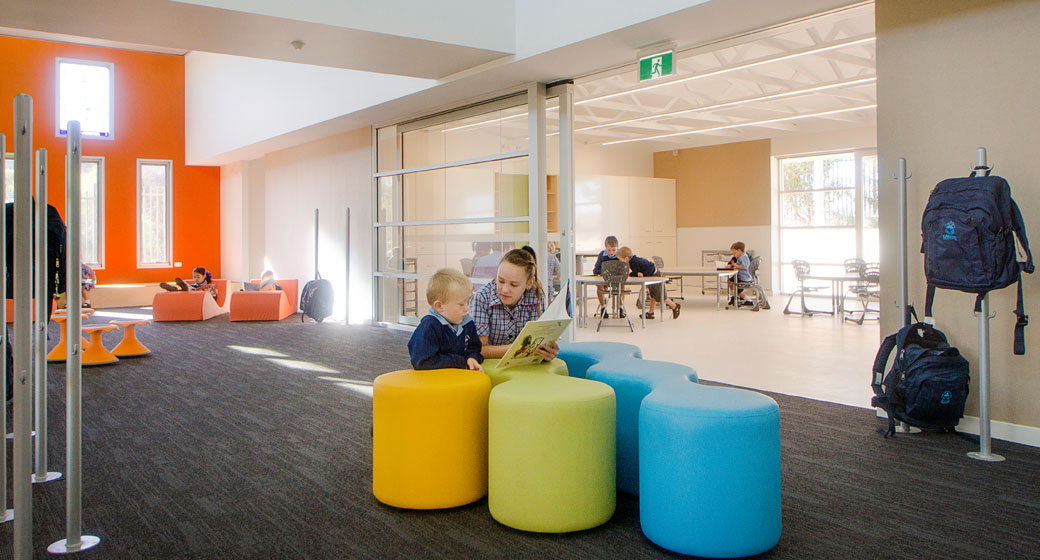 INCLUSIVE
SEAMLESS
Our Lady Of Hope School
The new Middle Years Learning Centre clusters five learning areas around a Learning Common. Each space has direct access to outdoor decks and wet areas. The site slope has been used to create a building undercroft for rainwater harvesting and the storage of physical education equipment.
The staff and students are delighted by the flexible and adaptable nature of the spaces that are filled with natural light with effective cross ventilation.
This project was by Brown Falconer.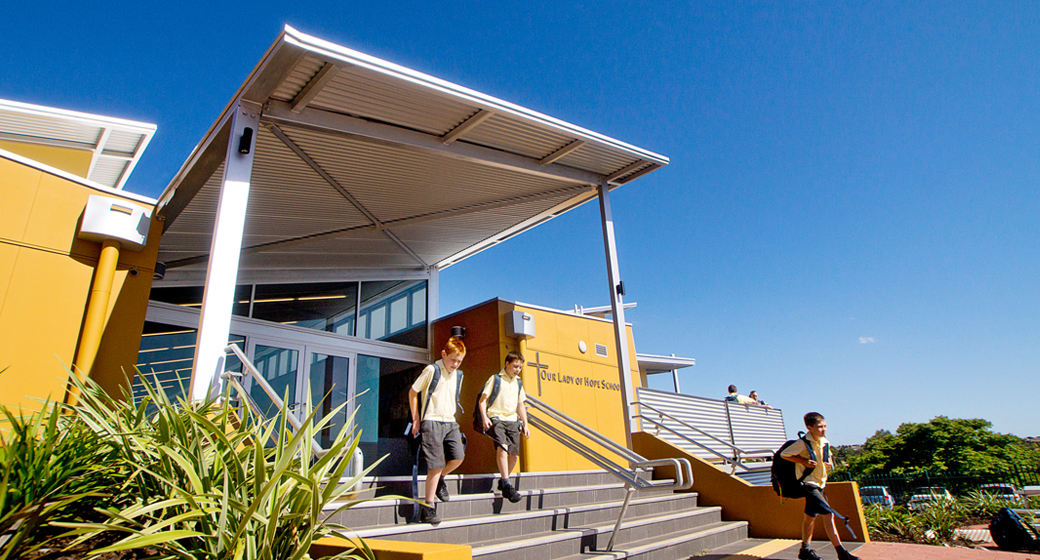 WELCOMING
ACCESSIBLE
SPW Chapel, Gillam And Millington
St Peter's Woodlands Grammar School is progressively refurbishing existing building stock to connect pedagogy and place.
A new Chancel screen for the Chapel of St Margaret of Scotland provided an opportunity for innovative graphic design by Gregg Mitchell.
The refurbishment of Gillam Building Year 6/7 Centre provides connected spaces and new loose furniture for informal and collaborative learning around the theme of The Hive. It includes Maker Studios for Multi-Media, Design and Technology.
An unloved Link has been enlivened with a series of nooks within the Millington Building, enhanced with street art by Gary Seaman. The talking hands connect with wonder, courage, respect and service.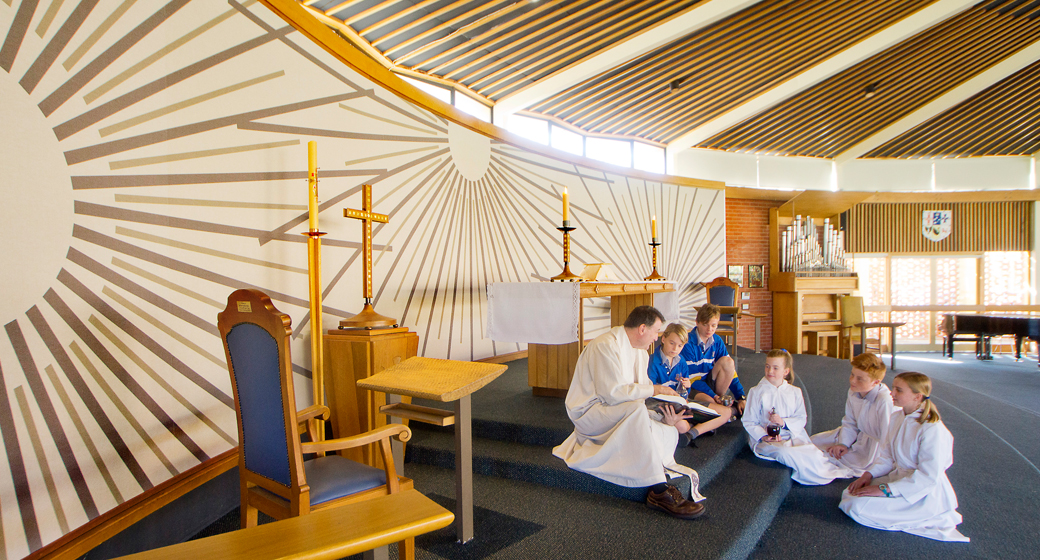 REFRESH
Loreto College ST Anne's Arts And Community Centre
The Loreto College senior campus in Marryatville is a unique setting centred on The Acacias mansion and state heritage listed gardens. The new arts and community centre replaced the two storey St Anne's Convent.
The plan form is driven by context and the opportunity to provide a public face to the busy arterial Portrush Road west of the site. There were acoustic separation and containment challenges for the multi-use performance space and ancillary facilities.
This project was by Brown Falconer.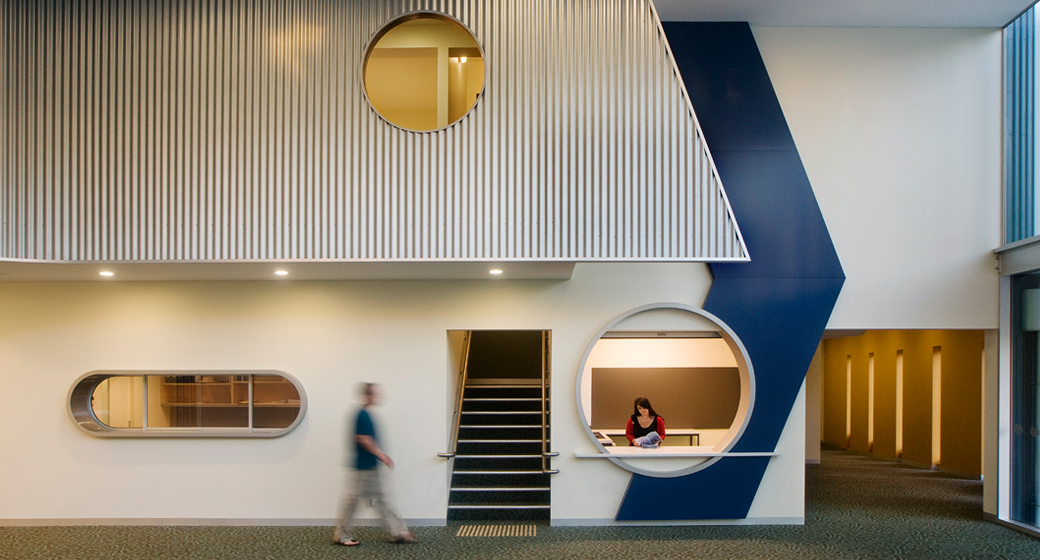 PERFORM
Catherine McAuley School
The recently completed projects comprising the Evangelista Learning Centre for upper primary students and the Multipurpose Hall are bold and contemporary. This has reshaped the identity of the campus in Craigmore that was structured around utilitarian masonry buildings.
The new functional arrangements support collaborative learning with flexible and adaptable spaces that are easy to use. This is a place where learning is fun.
This project was by Brown Falconer.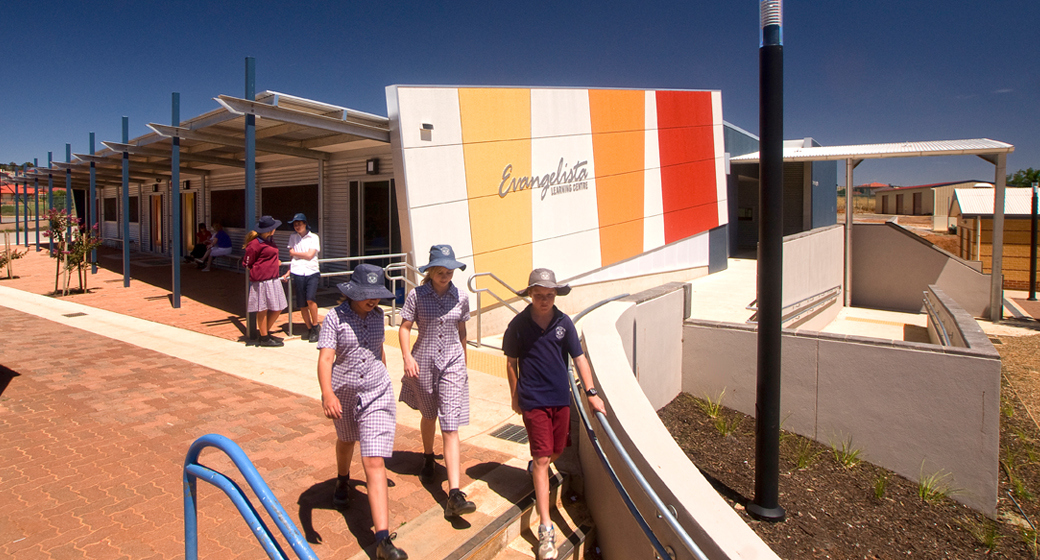 LEARNING
TOGETHER
EDUCATION INITIATIVES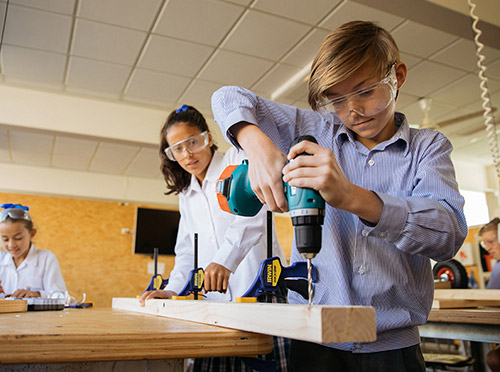 LIBRARIES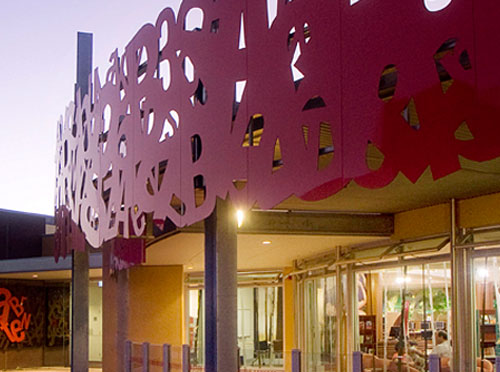 EDUCATIONAL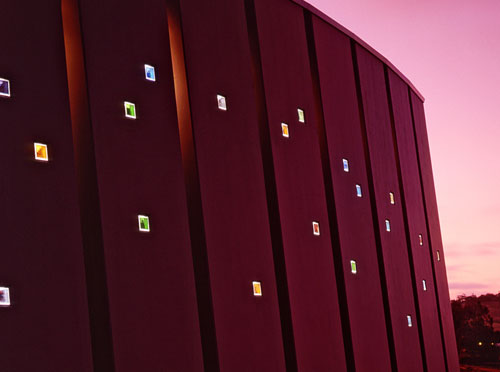 ECCLESIASTICAL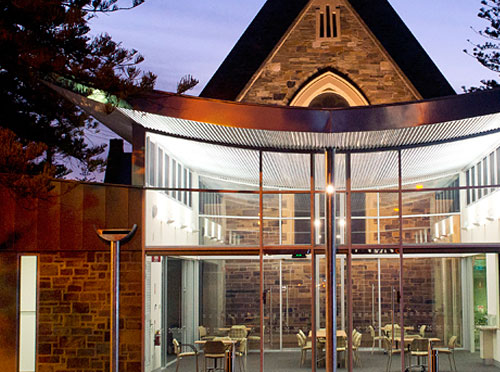 RESIDENTIAL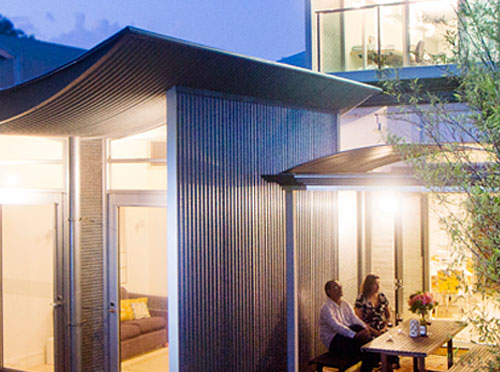 PROFILE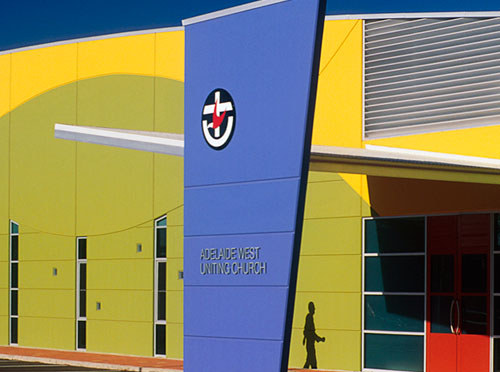 TESTIMONIALS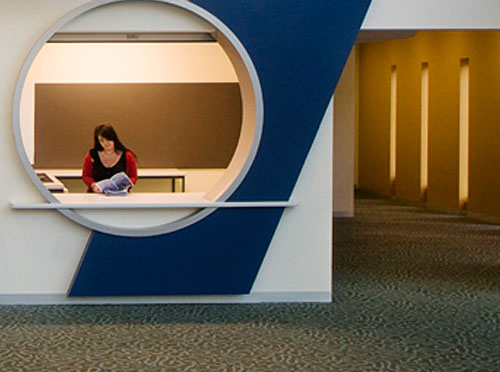 COLLABORATION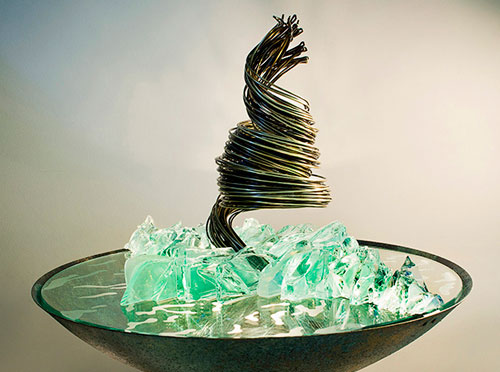 CONTACT